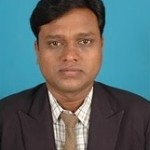 Dr. L.V.K.S. Bhaskar, born on August 16, 1974, at Nellore district of the Indian state of Andhra Predesh, it was dedication, hard work and intelligence which rose Dr Bhaskar to a level of the Senior Scientist in Sickle Cell Institute Chhattisgarh, Raipur.
Dr. Bhaskar has obtained his Bachelor's Degree in Sciences (B.Sc.) in 1994 and Masters degree (M.Sc. Zoology) in 1996. He was a Junior Research Fellowship (JRF) of U.G.C. in 1998 and Senior Research Fellowship (SRF) of DST in 2000. Dr Bhaskar was awarded Ph.D. in 2002 by the Sri Venkateswara University for his work in the area of comparative animal Physiology.
During 2003 to 2007 Bhaskar was Research Associate at the Centre for Cellular and Molecular Biology, Hyderabad. He was awarded Prof. Pampapathi Rao memorial Gold medal for the best young scientist research presentation in 2003. Later on he joined Sri Ramachandra University, Chennai, and served as Assistant Professor and Associate Professor during 2007-2014. He joined Koahsiung medical University (Graduate institute of Medical Genetics) as Postdoctoral fellow during January 2008 – May 2008. Areas of his research interest involves molecular basis of alcoholism, Genetics of complex human diseases and population genetics. He has published more than 85 research papers in reputed national and international journals. Member of many Professional and academic bodies, Dr. Bhaskar has organized several CMEs and has chaired a number of major national and international conferences. Dr. Bhaskar also serves on the review boards of many other journals. He participated in more than 5 research projects/grants, funded by several agencies in the India, and abroad. At Present Dr. Bhaskar is the executive member of the Governing Board of the Indian Society of Human Genetics (ISHG).