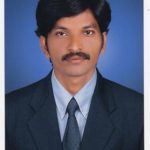 Dr. M.R. JAYAPAL received his Ph.D. in Synthetic Organic Electrochemistry from Sri Venkateswara University in 2010 and done M. Sc. in Organic Chemistry from Sri Venkateswara University in 2005. He started as an Assistant Professor in Chemistry in Institute of Aeronautical Engineering in 2011 and as an Assistant Professor in Chemistry and Head at NARASARAOPETA ENGINEERING COLLEGE in 2013. Present he is a Research scientist in National University of Cordoba in Argentina from 2015. His interested research areas are Synthesis and Bioassay of Novel Heterocycles, A study on biologically potent heterocycles, Synthesis of Nano particles and Synthesis, characterization and Electrochemical behaviour of chalcones, Isoxazolins, Pyrazolins, Drugs and pesticides of using D.C. Polarography, Differential pulse polarography, Cyclic Voltammetry, sensitive differential pulse adsorptive stripping voltammetric method, Electro organic synthesis etc. He has been collaborated research work with South Africa and India various researchers.
Dr. Jayapal published over 22 research publications and 1 text book and communicated research papers are about 6. He participated
in 8 conferences and acting as a Invited speaker. He serving on various Editorial Boards.