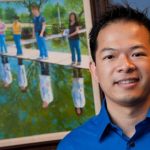 Jimmy Tam Huy Pham received his undergraduate medical training from Arizona College of Osteopathic Medicine, Midwestern University. He joined the Garden City Hospital, a teaching hospital affiliated with the Michigan State University, for its Internal Medicine program. He also serves as a clinical instructor at the Michigan State University's College of Osteopathic Medicine.
Jimmy received his Bachelor of Science in Biological Chemistry and a Bachelor of Arts in Chemistry from California State University, Long Beach (CSULB).
He further completed a Master of Science in Health Science at CSULB with an emphasis in public health and fundamental research in biological chemistry. Subsequently, he received a Master of Arts in Biomedical Sciences at Midwestern University, Arizona prior to receiving a medical degree at Arizona College of Osteopathic Medicine.