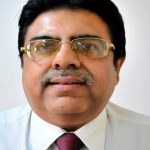 Professor Dr Neeraj Bedi,
MD,MPH,MBA, FRSPH(Fellow)
Professor Dr Neeraj Bedi, is associated with TAU, Guyana, South America as Adjunct Faculty / Faculty Jazan University, SA and Gandhi Medical College, Bhopal, has 27 years of teaching, training experience in Public Health. He has guided, supervised as Academician for social welfare of 85 Master of Public Health , PhD students enrolled from Africa, Middle East, South America, Asia. His innovative teaching method is e-learning and Problem Solving. He has about 67 publications in various national and international journals of repute with 1433 citations. He received many awards like "Teaching Excellence", "Jewel of India", "Eminent Citizen of India" and "Healthcare Excellence Award" in the Public Health domains.